We had a bit of a "domestic energy" focus over the weekend, whilst the mercury climbed.
Shopping around
I lost a few hours "shopping around" again to see if there were cheaper options for gas at home. 
That's time I'll never get back, getting into the detail of daily charges and (with some retailers) declining block tariffs for what seemed, at the end, to offer about $40 cost saving on a $1000 annual spend.  A pretty low hourly rate ROI (not even counting going through the transfer process), and time I won't get back – but that's food for another post.
Also on the weekend, we replaced another LED downlight in our house as it had decided it did not want to work any more.
This is becoming quite an annoying practice, because:
1)  we have something like 63 of  these in ceilings through the house – some in quite hard to access locations, and sprung-loaded in ceilings that are not going to take kindly to repeated prizing out for replacement (i.e. we need to replace the whole light fitting, rather than just a bulb);
2)  part of the justification for installing them was the promise that they would "last for 10 years", and yet I have already replaced 10-20 of them over the 5-year period from 2013 to 2018 (hence I feel like we've been sold a dud on the longevity front);
3)  I do miss the simplicity of the bayonet/screw style replacement of the old light bulbs, and really don't fancy having to do this kind of thing on the current frequency (or higher) into the future…
This irritation (and curiosity sparked by Tristan's article last week here and elsewhere – and some reaction to it) prompted me to dive into my Solar Analytics account for our residential rooftop PV power station (see earlier thoughts posted here a year ago) in order to access measured voltage levels at home.
Knowing that we were experiencing problems with blown LEDs I had opted for the higher subscription level from Solar Analytics because:
1)  I had been told by a number of electrically-minded people that they suspected high voltage as the reason our lights are blowing; and
2)  Our solar, and that from neighbouring houses, might be a driver for higher voltages;
3)  It's been stated elsewhere that local DNSPs (Energex, in our case) don't have much visibility of what happens in their network below the zone substation; hence
4)  I wanted to access a trend of voltage over time in order that I could see what it actually has been – and then
5)  From this basis, help me understand if there was something we could do to significantly reduce the expiration rate of LEDs.
In this brief post, I take the analysis as far as I am able (technically, I'm out of my depth here) in the hope that some more knowledgeable readers can help me out by helping me understand – with an explanation that's low on the lingo, and also minimally influenced by either extreme of the Emotion-o-meter.
My Solar Analytics account allows me to download data by month, so I grabbed what was there for October 2018 – being the most recent one, and with the latest LED having gone kaput during the month (I think it was 20th or 21st October – it was certainly at night).
The file I downloaded had data for 6 different "channels" (not sure if that is the correct term), with MIN and MAX voltage supplied for each of them.  Not knowing any better, I chose the 1st channel (which our helpful installer at Positronic had labelled "PV_Site_Net"), and trended both MIN and MAX voltages over the period up until the end of Sunday 21st October: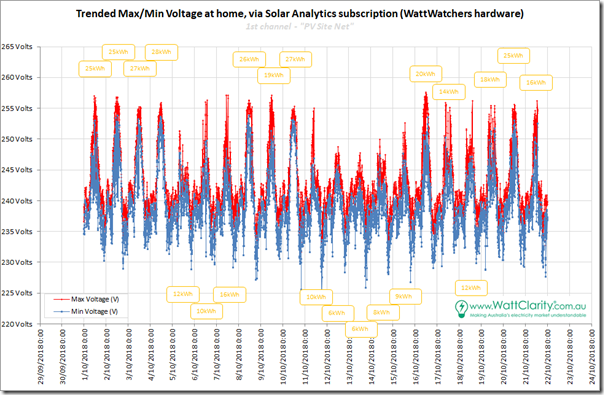 Because I was interested in the correlation between local voltage and solar output, I have also annotated the chart with the daily production from our PV array.
With a mental note to self that "correlation does not necessarily mean causation", there does seem to be a fair degree of correlation between solar output and local voltage – as in:
1)  Voltage consistently seems to dip overnight and rise through the day; and
2)  Days where solar output was highest seem to be days where (both MAX and MIN) voltage trended highest during daylight hours.
What I don't know are the following:
Question 1 = does higher solar output drive voltage higher?
Question 2 = what's the voltage supposed to be?
i.e. I have had 240V stuck in my head from decades ago, but Tristan's article (which references this University of NSW conference paper) suggests that voltages in Queensland were supposed to be lowered to 230V
Question 3 = does higher voltage have implications for applicances at home (and, in particular, with my failing LEDs)?
Question 4 = if so, what can I do about this?
I'll look forward to hearing back from those who can help me with this