Being the first large-scale solar farm in the NEM for which AEMO is publishing data (smaller plant, like Royalla, do not have data published by AEMO), it's worth providing this historical record on WattClarity.
The AEMO-published SCADA generation reading for Nyngan first stepped up off zero at 13:50 (NEM time) on Saturday 21st March 2015 (so 14:50 local time onsite).  Here's a snapshot we grabbed from the new NEM-Watch v10 upgrade late on Sunday afternoon, showing the two different types of solar data feed now available through NEM-Watch: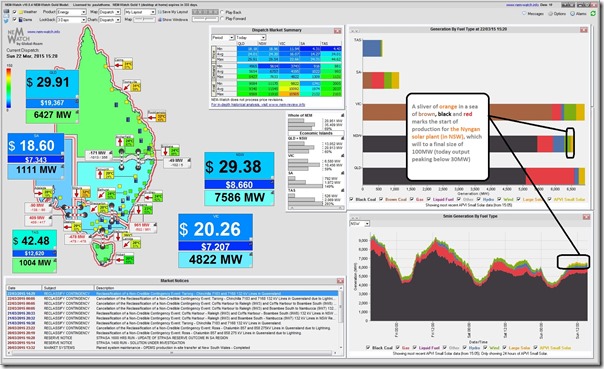 Like many other energy-sector stakeholders, we will watch with interest to see how the ongoing growth in solar production progresses.