There was a fair bit of interest shown in the islanding event of Saturday 25th August, including in these initial notes here on WattClarity from early that afternoon.  The following exchange on Twitter was one of many on social media over the weekend, with this one highlighted because of the questions I flagged: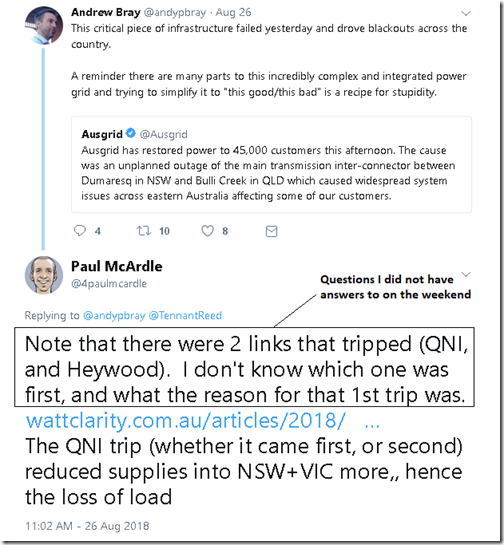 Coincident with this event, we've been starting to explore the inclusion of NEM 4-second SCADA data, published by the AEMO, into our product suite (definitely in some form via ez2view, perhaps also in NEMreview, maybe in something new).  Hence we saw the events over the weekend as one way we could drag ourselves up the learning curve with respect to this data set, and what it could show us:
1)  About the events of the weekend; and also
2)  How we should be utilising the data to further help our clients view our products.
Hence (with the assistance of some of the external consultants we use to drive our products forward) we have had a quick look at some sample SCADA data from around the time of the incident, and present the following thoughts for consideration.
Reader beware, however:  my "Training Wheels" are very much in place in dealing with this data set, so it is quite probable that I have made mistakes in interpretation of the data.  If you pick up any mistakes, it would be most helpful to us (so we, in turn, can better help our clients by making better software) if you could give us a call directly (+61 7 3368 4064) so you can help me understand what I've messed up.  Thanks, in advance!
Keeping that (big disclaimer) in mind, we hope this will be of some use:
1)  Interconnector flows
Looking firstly at interconnector flows, we prepared the following chart: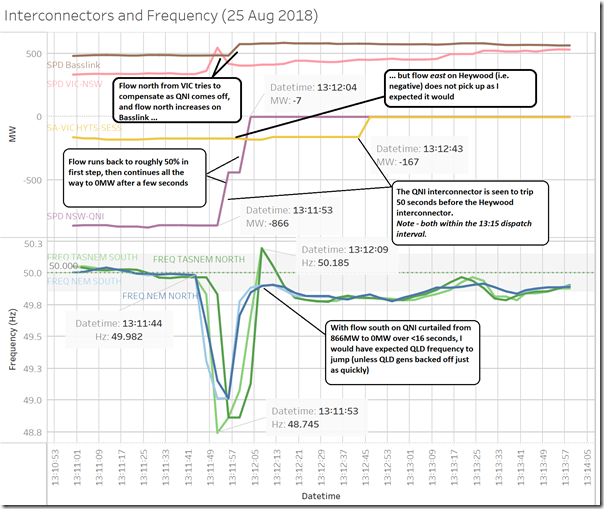 First thing to note about this chart, and most of the others below, is that the cover (just) a 3 minute period within the 14:15 dispatch interval.  This period (from 13:10:52 to 13:14:05) incorporates 48 sequential 4-second SCADA readings.  With these readings there are, unfortunately, delays that occur in the time-stamping of the data, which leads to difficulties in precise sequencing of events along the lines of "this happened and then that happened"…
There are four main things we can see in the chart above:
Observation #1 = we see that the QNI flow dropped from 866MW south to 0MW over a period of less than 16 seconds.  This happened in two steps – first to 50% and then to 0%.  I wonder if this is not indication of the "mal-operation" that AEMO referenced in Market Notice 64012 published at 17:52 on Saturday 25th (i.e. was it meant to reduce to 1/2 load and stay there?)
"External Reference  Cancellation of a Non-Credible Contingency Event:  Simultaneous trip of 8L and 8M Dumaresq – Bulli 330 kV Transmission lines as a credible contingency lines in NSW due to protection mal-operation.

Cancellation of reclassification of a non-credible contingency event as a credible contingency event due to protection mal-operation."
Observation #2 = we see that, as QNI was coming offline, flow north from Victoria and Tasmania increased to try to compensate – and yet Heywood is not seen to do anything.  I wonder why this was the case?
Observation #3 = we see that Heywood apparently remained operating (and at a steady rate) for a full 50 seconds before tripping.  Why it tripped I still don't understand – especially if it happened to trip a full 50 seconds afterwards?
Observation #4 = we see that (according to the data), the frequency in "NEM North" (i.e. Queensland) did not climb through the roof as I would have expected.  Instead, if we expand out the time-range below, we see that the data suggests that this did not happen until 13:19 – I do not understand how there could be such a time-lag?  Was this due to a time-stamping problem?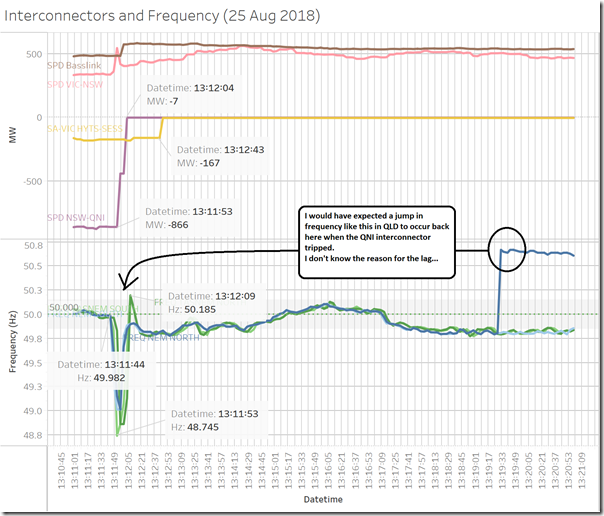 It certainly seems that there might be some form of measurement, or time-stamping, problem?
2)  Major loads
Next, taking a look at load at three aluminium smelters, in conjunction with the frequency: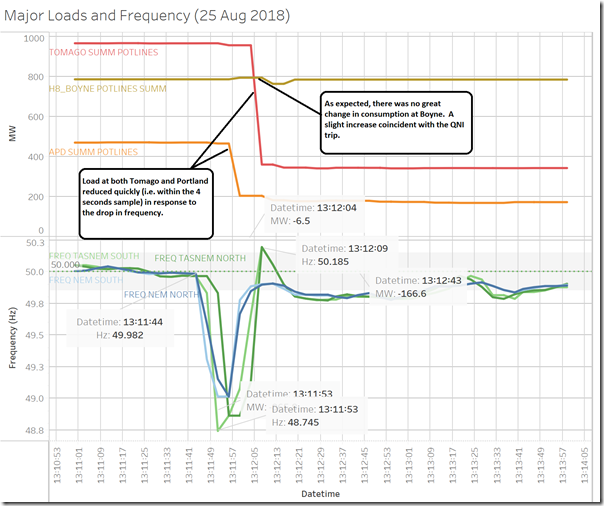 Observation #5 = we see the Automated Under-Frequency Load Shedding (UFLS) system triggered reductions in load at both Tomago Smelter (in NSW) and at Portland Smelter (in VIC).
Observation #6 = worth also noting that the output at Boyne did not drop, which is what we expected.  It's also another indication that there is an error in the data for frequency at "NEM North", as the output increases slightly (does not drop) coincident with the trip of QNI (i.e. Observation #4).
3)  Selected Generators
Starting with a stack of output at selected larger Queensland generators, we see that their cumulative output ramped down quickly in response to the trip of QNI – as I had expected to see: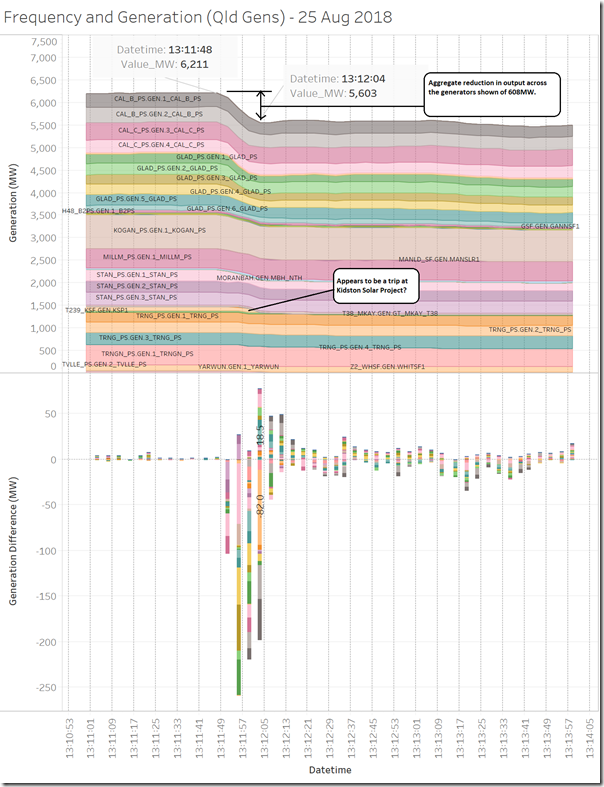 Observation #7 = total reduction shown in the chart is 608MW, which is lower than the loss of access to the NSW region (866MW) – but I suspect that this is just because we're not 100% correct in the stations selected.   Have not checked thoroughly…
Observation #8 = I've also noted that there looks like a trip at Kidston Solar Project, which might have happened in response to the high frequency we think QLD would have been seeing at the time (but is not shown in the chart above, as noted in Observation #4).  A small point, but this is also a slight deviation from the AEMO said in Market Notice 63985 where they noted NIL generation tripped with the event (we presume the most attention was focused on the bigger generators).
Taking a sample of the bigger generators across some regions, we see the following: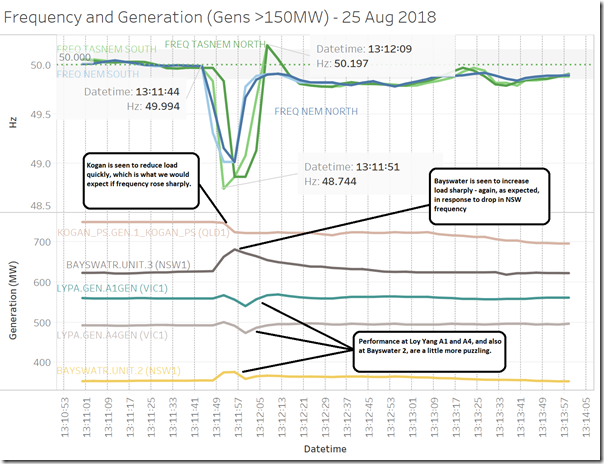 Observation #9 = The way that both Kogan (reduced quickly with presumed frequency rise) and Bayswater #3 (increased quickly with frequency drop) appear to have performed is as we expected.
Observation #10 = However the "up then down" output of Loy Yang A1 & A4, along with Bayswater #2, are a little more puzzling for me.  Perhaps I am missing something?
Taking a look at a mix of smaller plant, we have the following chart: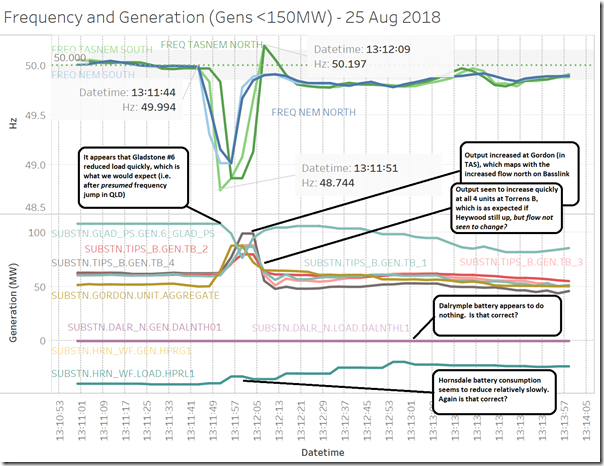 There are a number of things that seem to make sense in this chart, and some things that don't:
Observation #11 = It seems that Gladstone Unit 6 output reduced quickly in response to a presumed spike in frequency – however it just as quickly increased output, which is something that does not immediately make sense. Perhaps I am missing something?
Observation #12 = We see that output from all 4 x Torrens B units increases sharply (which seems to make sense if Heywood was still connected at that time – however the trend of flow above seems to suggest no increased flow to the east) but then reduces just as quickly (which does not make as much sense).  Perhaps I am missing something?
Observation #13 = We see that output from Gordon increases sharply to supply the mainland, and this seems to line up with the temporary increase in flow north on Basslink (i.e. in the time it took for Portland smelter to trip).
Observation #14 = Two things that are puzzling are that the batteries (Hornsdale, and Dalrymple) don't behave as would be expected if frequency in South Australia was to drop sharply whilst still connected to Victoria.  Again, this might have something to do with my same puzzlement about Heywood flow not being seen to change for 50 seconds (Observation #3)?
PS interesting that also on Monday this article was posted on RenewEconomy and included two charts focused specifically on the Hornsdale battery over two periods following the separation event. The charts contain 100 milli-second data (so presumably coming from Tesla or Neoen), so are at an even better resolution than the 4 second data provides.
Here's the first one, marked up with some comments (click on the image for a larger view):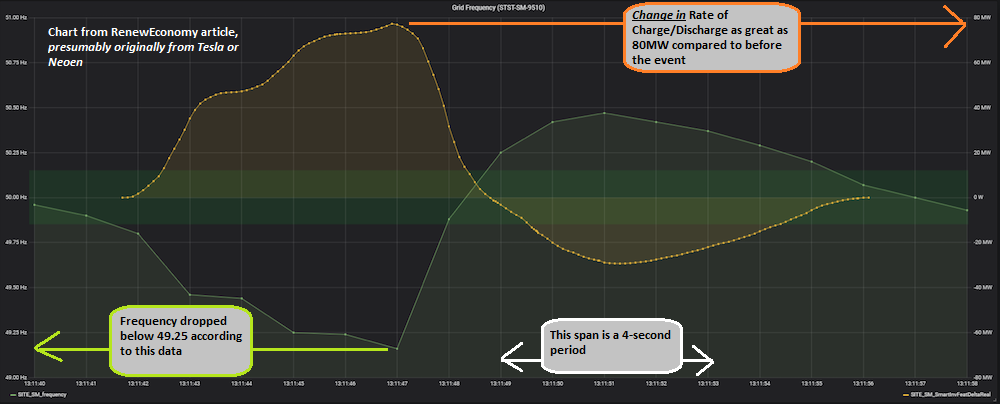 Here's the second one, again with some comments (click on the image for a larger view):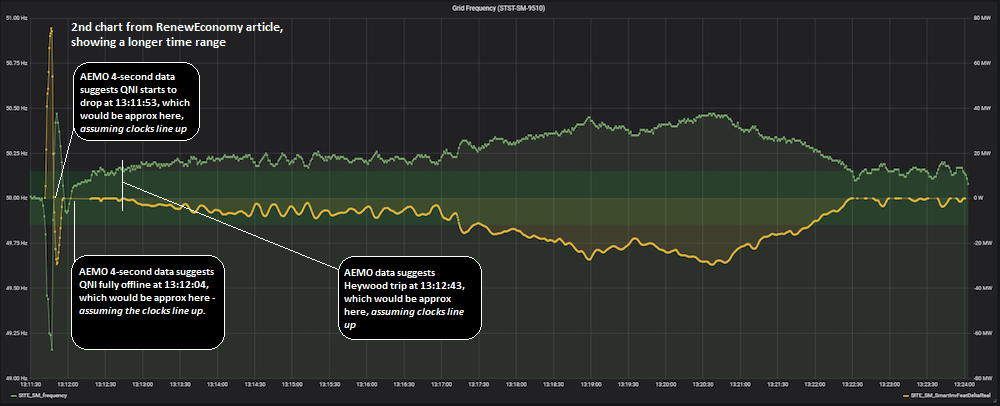 A couple points:
1) Readers should note that the "output" data has been re-zeroed to show change in rate of charge/discharge relative to where it was at when QNI tripped (i.e. was charging then at approx -40MW)
2) The data is more like I expected to see, so I wonder what's the reason the 4-second data does not show the jump to a discharge of approximately 40MW (i.e. 80MW change) within the first few seconds.
3) Where I've annotated that (according to the 4-second data) Heywood tripped, I would have expected to see frequency in the (then islanded) SA region jump again, as it had been supplying VIC. However that does not seem to be the case, which makes me wonder if the trip was not earlier than the 4-second data seems to suggest?
Alas more questions…
Finally, taking a look at some wind and solar plant reveals a few more questions, unfortunately…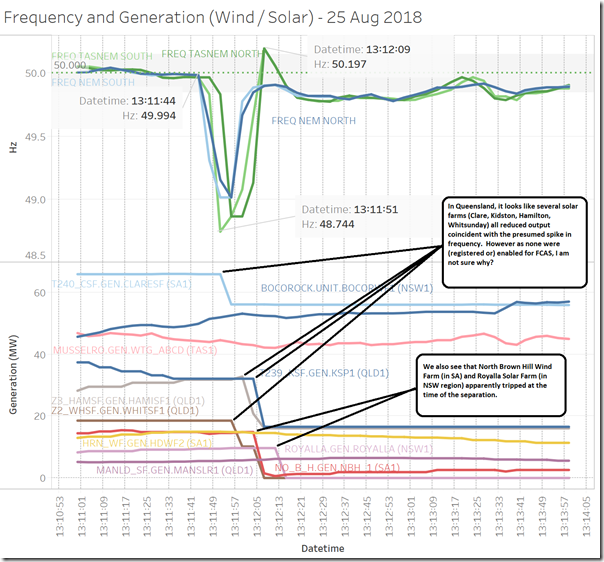 Observation #15 = Of the plant selected, it appears that 6 intermittent plant (5 solar farms and 1 wind farm) all dropped output coincident with the interconnector trip (with one tripping entirely) – but none of these have been (registered for or) enabled for FCAS.  Hence this would suggest some form of technical fault at each of the plant, unless I am misunderstanding something?
Please accept my apologies that this post seems to pose more questions than provide answers at this point.  Unfortunately I am still puzzling at many things currently…