Well, we knew it would be hot across Queensland this week, and hence last Friday AEMO had indicated the likelihood of high demand (particularly on Monday, Tuesday and Wednesday).
With our NEM-Watch v10 entry-level dashboard we've been keeping a close eye on how the Scheduled Demand had been performing through today.   By the time I had left the office today I'd seen the old record eclipsed by a handful of megawatts (9,482MW at 16:55 – eclipsing the old record by 5MW).   Hence I'd gone home noting that I'd have to make a quick post this evening marking something of some interest, but not astounding.
However checking back in at 20:55 with the temperature still stubbornly high, I am amazed to see that the new record for Scheduled Demand is actually 73MW higher than what we saw in January 2017.  That's an impressive increase on a prior record (especially given we know a number of large users which have backed off consumption because of volatility experienced in prior summers).
What's particularly staggering is that this demand record was how late this was achieved.  Peak Scheduled Demand was 9,550MW at 18:50 today!
My sense (I have not checked comprehensively, yet) is that this is much later than any prior peak demand record (for instance the prior record of 9,477MW was set at 17:00 on 18th January 2017).
Taking a snapshot from NEM-Watch v10 at 20:55 I have converted the demand and supply widgets to show tabular view and annotated with two significant take-aways: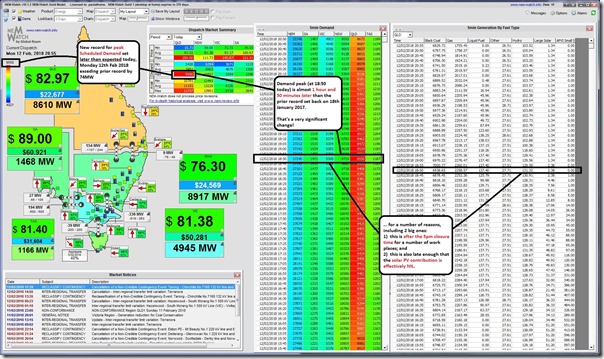 As noted in the image, the fact that this record in demand arrived almost 2 hours later than it happened just last summer could signal a huge change for the Queensland region – because, at 18:50 local time:
1)  Many businesses will have already packed up for the day and so the commercial contribution to peak demand will already have waned!
2)  It's also late enough that the contribution from solar PV has dropped to zero.  Now I have been watching the peak Scheduled Demand shift later in the day because of the "duck curve" phenomenon (and have previously posted about this a number of times).  It's still startling when it actually happens, though, when peak demand shifts so far to the right on the time scale that solar contribution is nothing.
This is a remarkable development that will lead to some more head scratching – about firstly forecasting peaks in Scheduled Demand in future years, and secondly in actually meeting them.
Notable in its absence today…
One thing noticeable in its absence in Queensland today (and indeed across the whole of summer, to date) has been the (also stunning) lack of price volatility.  A very different situation that that seen in the past 4-5 summers, from memory.
… but wait, there's more (probably) coming this week
As a brief detour before hitting "publish" I dial up the pre-configured 14-day overview for the Queensland region that's been configured in the Time Series Editor within ez2view and see (as noted) that the AEMO is forecasting more of the same tomorrow (Tuesday 13th) with an even higher peak in demand forecast for Wednesday 14th February.