Our display copy of NEM-Watch v10 alerted us to the expectation of high temperatures coming for NSW and Queensland in the coming days – as shown in the snapshot here from 17:50 NEM time: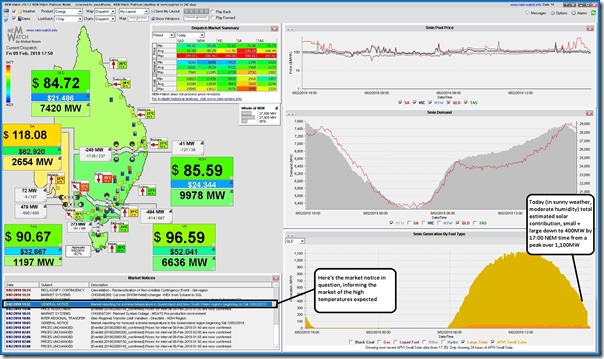 The full text of the Market Notice is shown here: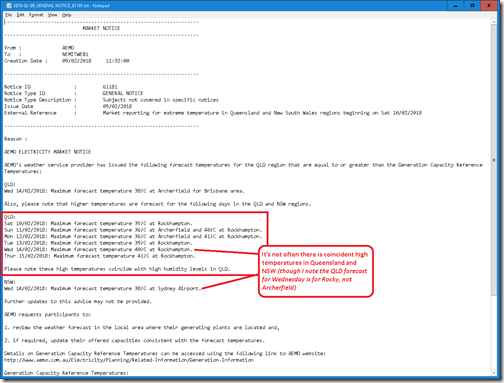 The high temperatures are forecast to begin tomorrow, but the coincident high temperature forecasts noted for in Sydney and Queensland (albeit Rockhampton – less a driver of demand, though still impacting on generation capability) makes Wednesday seem to be the most critical day from a supply/demand perspective.
In the interests of time (and with apologies to our NSW-based friends) I'll ignore NSW in our article here and just pull up the following web-based time-series trend widget from ez2view to visualise what the AEMO is forecasting for Queensland in the week ahead: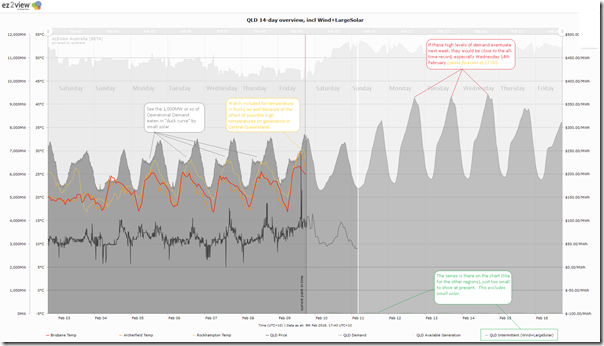 As noted on the chart, all three days (Monday, Tuesday and Wednesday) are forecast to have high demand, peaking at around 17:00 – so before the sun has set, but still with solar contribution waning in the afternoon (today it was down to 400MW or so from small-scale and large-scale in the state at that time).
On all three days the demand is forecast to be above 9,000MW – with Wednesday forecast to be the highest of the three (though still slightly below the all-time record set last summer).
Will make for an interesting day on Wednesday 14th February, if high temperature in NSW also drives demand there high and imposes limits on generation capability across several technologies!