The hot weather centred on NSW yesterday crossed the border overnight to affect southern Queensland today.
The earliest snapshot from NEM-Watch I have this morning was at 10:00 at which point the Scheduled Demand Target for Queensland was 7,887MW.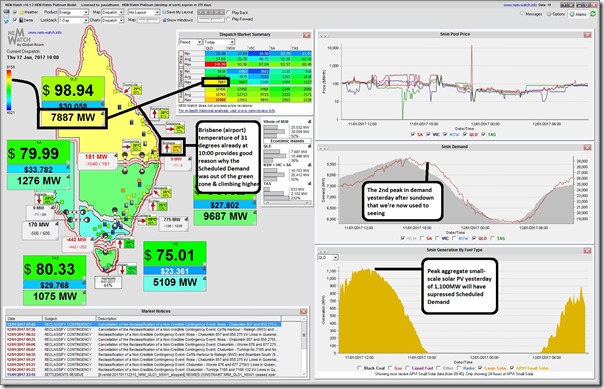 By 14:50 the Scheduled Demand was up to 8,878MW as seen in the following snapshot.  This was an increase of 991MW over almost 5 hours – so a regular but steady incline (with the exception of a reduction via spot-exposed demand response that occurred with the price spike in the 12:35 dispatch interval we can see in the snapshot below).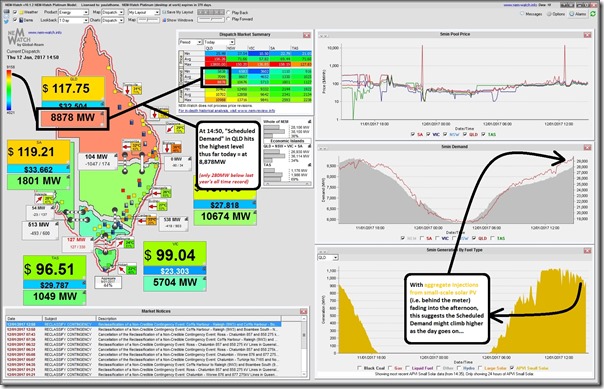 Interestingly, by this time we can see aggregate small-scale solar PV injections begin their afternoon decline (which would be one factor suggesting that Scheduled Demand might climb higher further into the afternoon (this image was tweeted during the afternoon)
At 15:15, the QLD Scheduled Demand was 8,935MW – no snapshot to show.
However at 15:30 the QLD Scheduled Demand had climbed to 9,033MW – the first time past 9,000MW so far this summer, and remarkable in its own right because it happens when many people are still sunning themselves at the beach, at the cricket, or other worthwhile vacation pursuits.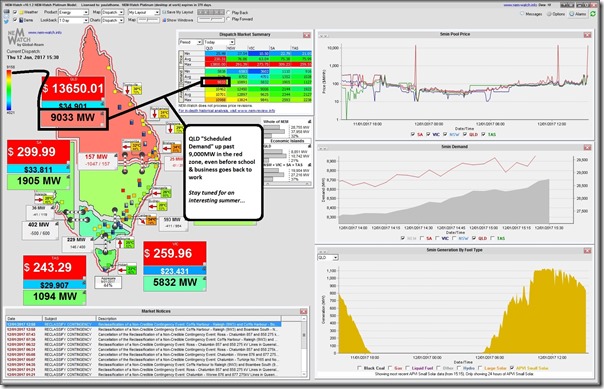 No real surprise, then, to see prices sky high at the same time – with the 5-minute dispatch price up at $13,650.01/MWh for the 15:30 dispatch interval, delivering a trading price for the 15:30 trading period of $2,458.29/MWh (notwithstanding the trickiness of the 5/30 issue in terms of actually catching the spike).
We expect to see more of this in the next couple months, with a new record maximum sometime after schools go back …