Yesterday I noted how a new all-time record had been reached for wind production, aggregated across the NEM.
It was also noted by others, on Twitter, that the NEM reached 25% of its total generation supply being delivered by renewable energy (hydro, wind and solar) on Sunday afternoon – at least for the 13:10 dispatch interval highlighted.  Note that the image provided comes from the NEM-Watch widget we've developed for RenewEconomy (it's static in the image below but live in the link).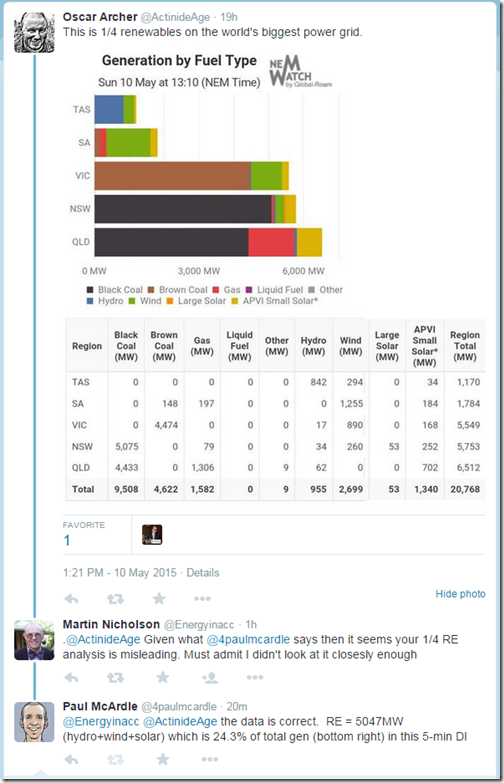 The windy weather down south has been persisting for a number of days now – and has continued into this morning.
Frequent readers of WattClarity will understand that we do strive to remain generation source agnostic.
Our role is just to make the complexity in the energy market more understandable – whatever its rules of operation just happen to be. We hope that, by doing this, negative unintended consequences of policy choices that governments choose to make on behalf of their constituents can be reduced.
Judging by the fact that I've been accused (by some) of being a front for wind farm developers, and also (by others) in the pocket of "big bad coal" I'm inferring that we're not doing too badly at that (though, of course, there is always room for improvement).
Naturally, the South Australian region contributes a sizeable percentage of the total wind supplies in the NEM – see the following chart (focused on South Australia and) extracted from our NEM-Watch software this morning: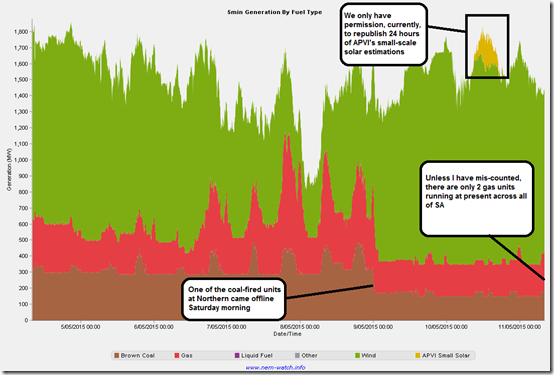 Part of the value of NEM-Watch is that it allows people (participants, spectators and commentators) to gain a clear view of how variables such as the above are integrated into the broader scope of what's happening in the market – so they can more easily understand the implications of such events as high wind in South Australia.
This morning I noted that AEMO has, once again, flagged a "LOR2 warning" for the South Australian region in its Market Notices – as highlighted in the following snapshot from NEM-Watch (and triggered through SMS alerts to my phone):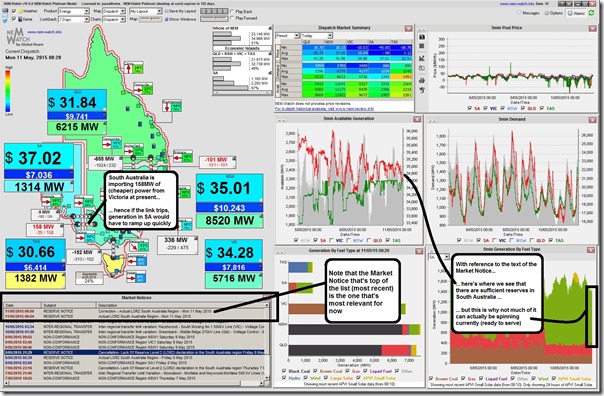 I've annotated this display to help readers understand a few of the significant variables.  Double-clicking on the Market Notice in NEM-Watch launches the full text of the market notice, as follows: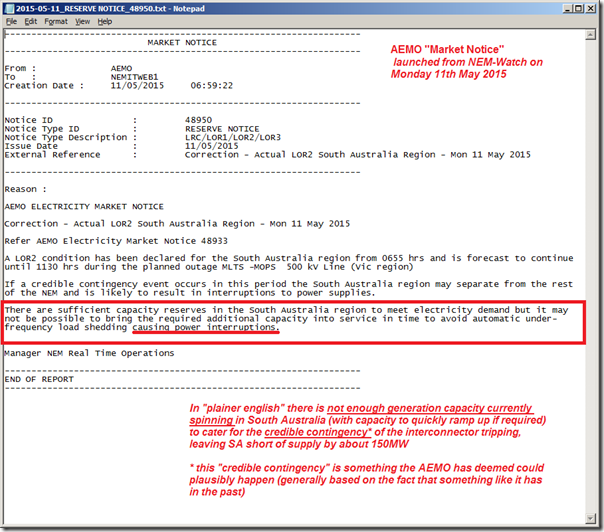 Astute readers will notice, in the window of Market Notices within NEM-Watch, that similar Market Notices were issued last week.  Readers in South Australia will be aware that this "credible contingency" did not happen last week (i.e. so the lights did not go out).
1)  Hence we can (and should) conclude that – just because AEMO says it might happen, does not mean it will happen.
I have previously commented, for instance, on doomsday predictions for security of supply.
2)  However the converse is also true – just because it did not happen last week, does not mean it won't happen today (or at some stage in the future).
(a)  Indeed, probabilistically speaking, it is almost guaranteed that it will actually happen on one (or more) occasion when AEMO issues a Market Notice such as this at some stage in the future – if the market does not respond.  That's why it's deemed a "credible contingency".

(b)  The key take-away here is that the South Australian region is operating in a less secure state than the Market Rules would like it to be at present, due in part to:
i.  maintenance works on transmission (which are being incentivised, under the rules, to schedule these works when they don't ordinarily have a market impact – so times like now!); and
ii.  high wind production in South Australia.
Unfortunately, in this case, I'm not aware of too much that the market might actually do in this case, given that windy conditions in South Australia are making it uneconomic for most thermal generation to start up, at present.  It would be possible to shift the maintenance outages away from windy periods – but there would be costs associated with this, as well.
Longer term, if further renewables were to be added to the grid particularly in South Australia:
1)  This might give weight to the business case for augmentation of interconnection capacity between South Australia and the east (but to do so in a way to reduce the risk that these credible contingency events might happen – which might mean not augmenting along the identical flow path).
2)  It might also provide an added boost to Demand Response – at a 150MW potential shortfall in South Australia today (if the "credible contingency" event were to occur) there would be a number of our customers involved in providing this Demand Response, as the price would spike to the Market Price Cap if load shedding occurred.
3)  Needless to say (especially with recent press coverage) there will be many who will view battery storage as the panacea in this case.  I am interested to learn what the response rates might be in this respect (i.e. in response to rapid frequency drops should the link be lost) – perhaps one of our readers might elaborate?
That's all I have time for today…
---
PS – in the interests of completeness, readers should note that the AEMO Media Twitter account provided these details about this LOR2 notice today: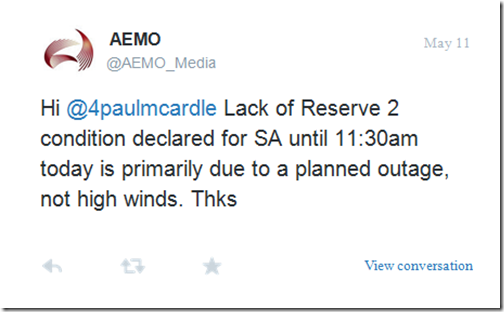 My apologies for any readers who might have missed my reference to the transmission outage in this post.