It's New Year's Eve – but (with only 9 days remaining for people to get their entry in to win a portable BBQ in Competition #6 (peak Tassie demand this summer) I've done some quick analysis in NEM-Review to reveal the following trended monthly demand pattern for the Apple Isle: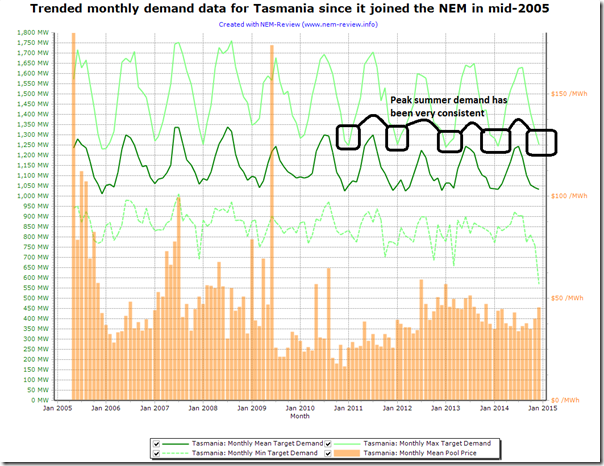 Full details of competition #6 were posted 2 weeks earlier, and entries have been coming in each day since that time – but there is still time for you.
We can see from this chart that the peak summer demand has been very consistent in Tasmania over a number of consecutive summers, which suggests that, to win, you might need to:
(a)  Fine-tune your forecast; and
(b)  Get your entries in quickly.
It's also obvious from the above that Tasmania (unlike the 4 mainland regions for a number of years) is distinctly winter-peaking,  though for the sake of giving another BBQ away as a prize we opted to look at peak summer demand for Tassie as well.
For completeness, we also show below what NEM-Watch is showing in terms of what the AEMO forecast the peak summer demands might be under various economic scenarios (refer here for details of how you can read the numbers off):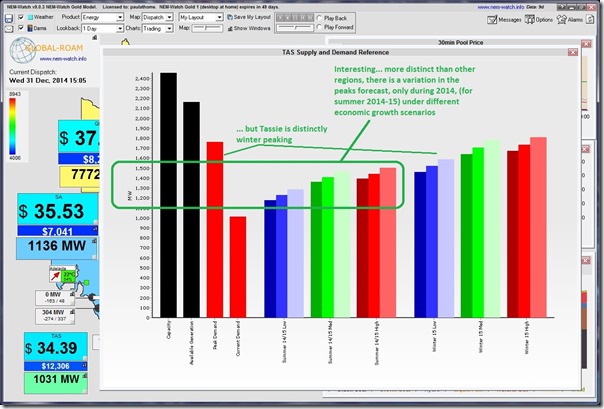 Considering the tips above, it's now up to you to email in your forecast.
We wish you Happy New Year, from all of us at GLOBAL-ROAM Pty Ltd, as we enter our 16th year of operations.