As a PS to the note earlier today, here's a final snapshot from NEM-Watch capturing the moment when demand peaked for the day, across the NEM and in Victoria.
It was the 16:05 dispatch interval (so 17:05 Melbourne daylight savings time) when the Victorian Scheduled Demand reached 10,072MW – and the NEM-wide demand climbed to 31,891MW (ensuring that many of the bids for what the peak demand would be this summer from our BBQ-hungry readers are already out of the money):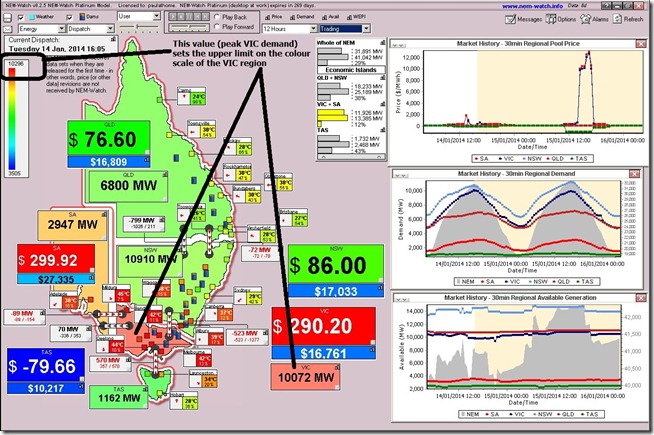 The snapshots illustrates that Victoria is firmly in the red zone (driven by the extreme temperatures), with Scheduled Demand being just 224MW short of the all-time record – when measured on a dispatch target basis.
The yellow warning on the VIC+SA "Economic Island" highlights how there's a relatively tight supply/demand balance (a 12% Instantaneous Reserve Plant Margin) – so one of the reasons for the increased prices.