Just a quick note (and a snapshot record from NEM-Watch 8) of the price spike in Tasmania this evening:
(a) 12 dispatch intervals at close to the new Market Price Cap of $12,500/MWh (actual price $12,400.08/MWh) from 17:35 to 18:30 plus
(b) Another 4 dispatch intervals at similar prices from 19:05.
The attached snapshot was taken at 18:30 NEM time: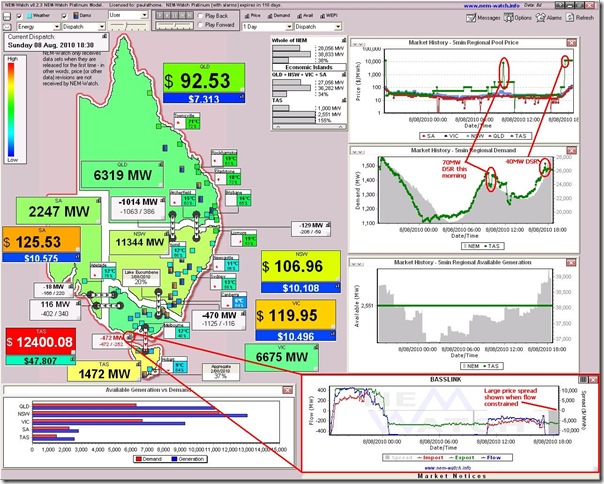 In this snapshot, we can see:
1)  No change in available generation capacity prior to or during the period of the spike, and a large surplus of available capacity (keeping in mind that Tasmania is energy-constrained, not capacity-constrained).
2)  A reduction of demand of approximately 40MW – most probably demand side response triggered by the high prices.  See that there was also one this morning, as well, in response to 2 periods at high price:
See this discussion of the potential benefits of curtailability, if you have an interest in this topic.
3)  Imports over Basslink running at maximum allowable capacity over the period, as would be expected.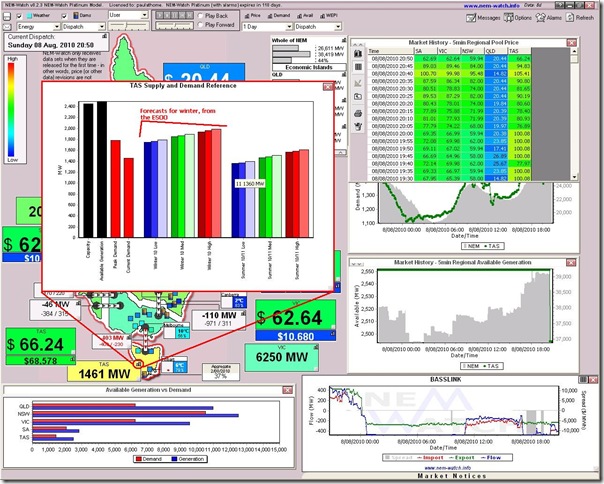 In the second snapshot (taken just now at 20:50) we see that the demand experienced tonight (which peaked at 1551MW at 18:40) was still significantly below both:
1)  Historical all-time maximum demand (on a dispatch target basis) of 1781MW; and
2)  Forecast peak demand this winter under 9 different permutations of economic and weather scenarios (the lowest being 1748MW under the L90 permutation).
We can also see how the Cumulative Price for Tasmania has jumped to $68,578/MWh as a result of the spikes – probably too late, this winter, for a repeat of what happened last winter in Tasmania, with the Cumulative Price Threshold reached then.