Despite the very ominous warnings that were seen this morning about a stellar demand peak (and load shedding) expected for this afternoon in Victoria, the actual Scheduled Demand did soar to be as high as 10,107MW at 15:35 (when measured on a dispatch target basis) but this was still 389MW lower than the peak achieved in summer 2008-09, just prior to Black Saturday.
As shown in this snapshot from NEM-Watch at 17:00 market time today, the demand in South Australia is climbing late in the day and has passed the 3,000MW mark, the Victorian peak was at 15:35, and the NEM-wide peak today was at 15:50 (reaching 32,913MW – making it the highest demand achieved so far this summer):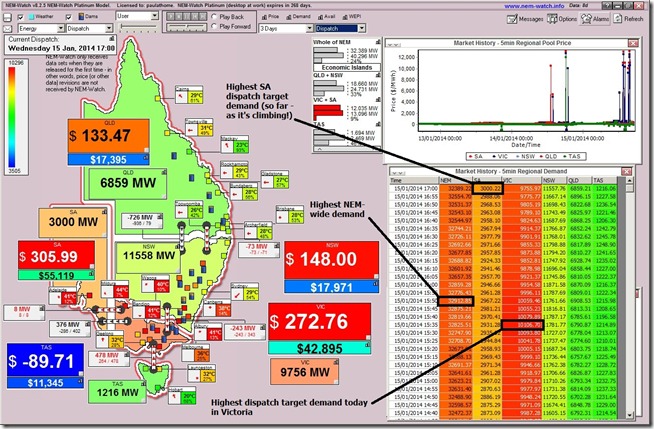 In good news, we see that the LOR3 warning (i.e. forecast of the need for load shedding) was cancelled this afternoon around 15:00, after this preliminary post had been made earlier today.
---
Finally, we note that (as at 16:55 today) the forecast for tomorrow is that:
1)   The demand will reach as high as 10,364MW in Victoria in the 15:30 trading (i.e. half hour) period; and
2)  AEMO has issued Market Notice ID 44586 at 16:45, warning of a LOR2 condition tomorrow forecast for between 14:00 and 16:00 market time noting that there is currently forecast to be only 126MW of spare capacity available at the lowest point over that period – i.e. not enough to cope with demand should the largest single contingency occur (this might be the trip of a large generator, or of a large transmission connector).
Hence we look set to do it all again tomorrow…