This article from Daniel Palmer at the Climate Spectator today reminded us of the fact that the Macarthur Wind Farm was opened today, to claim the mantle as the largest wind farm in the Southern Hemisphere.
The plant boasts some impressive statistics for overall size, and size of turbines (3MW each) etc, and is located in one of the best locations in the NEM for wind harvesting.
We took a quick look at the Victorian regional display within ez2view but unfortunately noted that Mother Nature did not get the invitation to the event, or already had other engagements: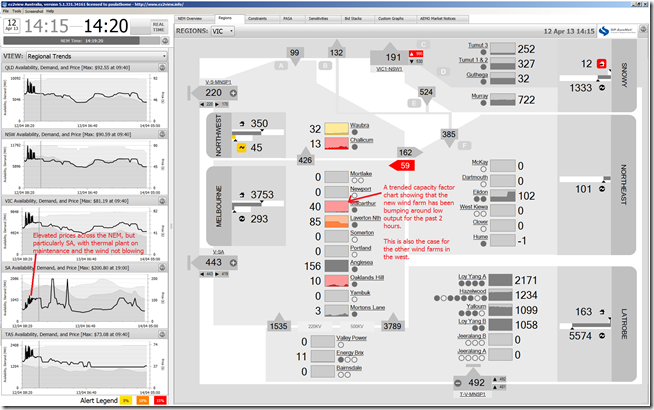 Also shown on the dashboard snapshot is the way in which prices have been slightly elevated across the NEM today, following on from higher prices in SA for the past couple days, on the back of lower available generation capacity from the generation fleet across the NEM (due to scheduled maintenance planned each year for the lower-demand shoulder months).
If certain advocates of wind power are to claim that wind farms have a hand in keeping spot prices low (when they generate, as discussed here), it seems only balanced to highlight what happens when it does not.
---
PS – yes, before anyone chooses to comment below, we do understand that wind farms are a type of generation built for energy production, not capacity supply, as we've noted before – but we could not help to laugh at the irony.
The thought of postponing the opening must have occurred to the organisers when the weather forecasts were produced in advance (there would have been thoughts that there would have been cheeky comments such as this being made).