An article recently in one of the main papers about increased flows down the Snowy River prompted the question, internally, about how much the La Nina pattern of the past 24 months had impacted on production volumes from the hydro facilities around the NEM.
Clearly, the La Nina weather pattern has been one of the contributing factors to the lower-than-expected demand across the NEM in recent times, with other contributing factors discussed here.  We wondered how much hydro production volumes had increased, compared to previous years – and (if significant) how these increased production volumes would have also been a factor contributing to the low spot prices, and low volatility, experienced for a number of months.
So we charged up our copies of NEM-Review 6 and generated the following trend: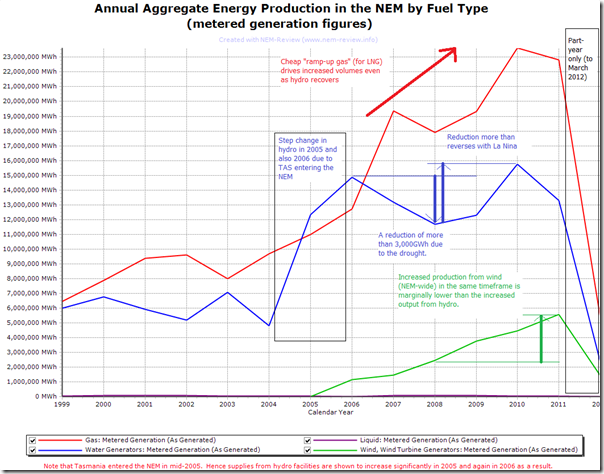 In this view, we show the relative scale of production from the four lower-capacity factor sources (gas, hydro, wind and liquid fuels).  Coal production is not shown, due to a difference in scale.  Figures shown are aggregates across all regions for a particular fuel type.
To see, more clearly, the increased output that La Nina has driven, we've focused specifically on hydro output for each region – and have drawn this chart: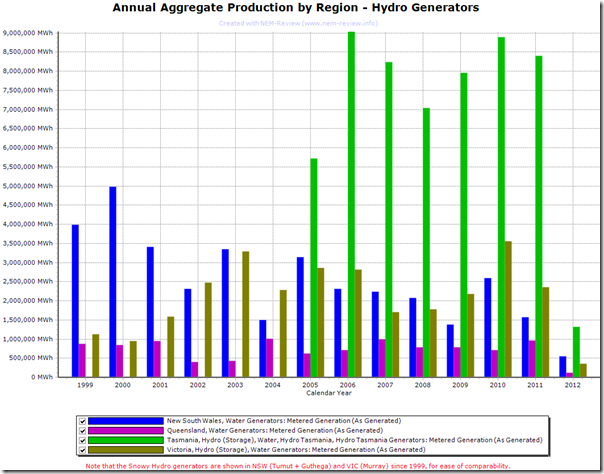 As can be seen, the hydro generators in TAS provide the bulk of the power – and also contributed the bulk of the increase (from 2008 to 2010).