Power outages have long been a fact of life in Buenos Aires, Argentina. Particularly over the humid summer months where the air-conditioners are permanently switched on. While staying in Buenos Aires for five months in 2017, street navigation by back-lit phone, and (non-romantic) candle-lit dinners, were common events. What has caused this? Ultimately, the poles and wires and substations that make up the city distribution networks (distribution infrastructure) can no longer sustain demand. This has badly impacted the reliability of the network, but (as we shall see) has also impacted on retail prices.
By way of contrast, Australia is a case study in how over-investment in distribution infrastructure can inflate retail prices. I call this the Network Investment Paradox: Invest too little, price rise; invest too much, same thing happens. I examine the phenomenon and ask; are the regulatory policies implemented in Australia enough to maintain the right balance of network investment going forward?
1)  Understanding Under-Investment
The causes of network under-investment in Buenos Aires (and Argentina more generally) are complex and interwoven with broader economic, social and regulatory trends. The distribution networks were privatised in the early 1990s with two private companies Edesur and Edenor (the distributors) running the distribution networks for the south and north of the city respectively. Throughout the 90s there was relative reliability and stability to the distribution infrastructure due to regular maintenance and upgrade.
This changed, however, with the Argentine economic crisis of 2001/2002. The federal Government froze electricity prices, (including the regulated network component) to relieve pressure on consumers. While the distributors limped along via subsidies, inflation and repeated political interference in network cost recovery, stymied distributor access to capital and disincentivised investment in the distribution infrastructure. With retail prices frozen, and inflation rampant, consumers had no incentive to reduce their demand on the system, despite paying an ever-decreasing proportion of the cost of that electricity. The graph below from The Economist shows the effect very low electricity prices had on electricity consumption in 2015.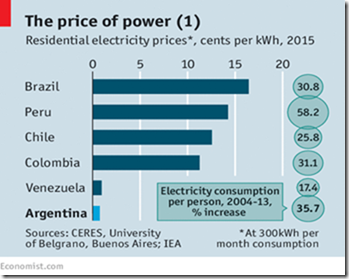 This demand in combination with a swelling population has resulted in a network that can no longer guarantee reliable supply.
The election of the Macri Government in 2015, saw a plan to improve distribution infrastructure and for utility bills to better reflect the cost of producing the utility. Combined with pressure from the International Monetary Fund to manage the deficit, in the last two years Buenos Aires has experienced massive jumps in retail prices. The most recently slated increase is for an average of 55 per cent per consumer (noted here).  Increased retail prices have facilitated a range of network investment to improve the distribution infrastructure.
See, for example, https://www.smart-energy.com/industry-sectors/smart-grid/edesur-argentina-enel/, for improvements occurring in the broader province as well as in the city of Buenos Aires.
In short, the costs of chronic under-investment will eventually be passed on to the consumer, and likely at a higher cost than would result from regular maintenance and upgrade.
2)  Understanding Over-investment
The 'gold-plating' of Australian transmission and distribution networks has been the main driver of rising retail prices over the last decade or so. The ACCC Retail Pricing Inquiry and the Australian Energy Regulator (AER) identified inefficient regulation of network pricing as the cause of this over-investment (see page 158).
Previous regulatory settings meant that the AER had to accept expenditure proposals if it was satisfied that they 'reasonably reflected' efficient, prudent and realistic expenditure. This enabled distributors to submit the highest possible demand forecasts and, left the burden for the AER to show that the distributors did not meet the standard. Those forecasts, in turn, enabled distributors to invest excessively in the reliability of distribution infrastructure.
The graph below demonstrates this trend by showing the increased in the 'Regulated Asset Base' for distributors over time (see page 159).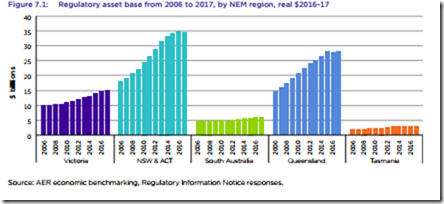 Focusing on the 2014-2016 period this graph shows the increases starting to level off. This has been attributed to a range of regulatory measures including:
giving the AER greater ability to assess network revenues and proposed costs;
a focus on benchmarking and changes in assessing debt and rate of return; and,
increased stakeholder participation in price-setting.
3)  Lessons for Australia
It is essential wherever distribution infrastructure is privatised that the right incentives are in place to support reasonable investment in the upgrade and maintenance of that network. If the business's ability to make a reasonable return is stymied, that investment won't happen. However, excessive investment will unfairly pass extra costs on to consumers.
While network investment in Australia is arguably approaching a reasonable balance between over and under-investment, are there any emerging trends that should make us worry?
There are two trends that are worth pondering:
3a) Embedded Networks
Private electricity networks, often called 'embedded networks' and located in apartment buildings, shopping malls, retirement villages and caravan parks, are a growing form of electricity distribution in Australia. It is estimated that there are between 3,000 and 4,000 embedded networks in National Electricity Market jurisdictions, serving between 213,000 and 227,000 customers (see page 15).
While the Embedded Network Operators (ENOs) are entitled to pass on the costs of the wider distribution network to their small customers, they are not permitted to charge for the costs of maintaining and upgrading that private network.
See Electricity Network Service Provider – Registration Exemption Guideline, Version 6, March 2018, p64. While there are reforms in development intended to require ENOs to register as a class of distributor, there are no proposals currently that they will need to meet the reliability standards of distributors or to allow ENOs to charge for internal network costs.
This means that there may be insufficient incentive for ENOs to invest and ensure that their networks meet reasonable reliability and security standards. Over time, this could lead to significant under-investment in the resources used to supply customers.
3b) Embedded/Distributed Energy Resources (DER)
The rise of solar power in Australia has meant a significant increase in embedded or distributed generation. This is small-scale, de-centralised generation connected to the grid at a distribution (rather than transmission) level. Common instances include rooftop solar PV, battery storage, electric vehicles (EV) and EV chargers, as well as demand response initiatives.
There are concerns that this might have an impact on the broader network (see page 1). Concerns include:
overstated or understated network demand forecasts through a failure to account for behind-the-meter generation. This could affect distributor forecasts as well as those made by the market operator (AEMO);
safety risks to workers, installers and the general public through emergency services and line workers or electricians not having adequate information on sites with distributed energy resources.
A planned register of distributed energy resources (Guidance is expected to be released in mid-2019) may improve visibility of these assets.
Editor's Note
At Global-Roam, we collaborated with the Energy Storage Council (now the Smart Energy Council) to invest considerable resource into the development of an Energy Storage Register that would operate on a beneficiary-pays basis. This process began prior to the COAG Consultation, and continued in parallel with this – and is discussed here.
Given the route chosen by COAG as the result of this consultation, we suspended further investment in our proposed solution.
In the case of both embedded networks and DER, regulators need to take special care to ensure that there is transparency across the broader network and incentives in place to ensure sensible investment.
---
About our Guest Author
Dr Drew Donnelly is a Regulatory Specialist with Compliance Quarter.

Dr Drew Donnelly holds a PhD in Legal and Moral Philosophy from the University of Sydney.  He has extensive government experience including as policy analyst.  In Compliance Quarter, Dr Drew helps new entrant retailers with their regulatory compliance.

Compliance Quarter provides world-class systems and expertise to energy retailers and other market participants

You can find Drew on LinkedIn here.