Since late 2016 we have been developing NEMreview v7.  This has involved moving it online – for  number of reasons, not the least of which being to make it much easier for us to add in additional data sets for our clients (it's still in BETA and will be for some months to come, but v6 clients have been given early access, which enables them to feed into the development process).
Recently we have added in a feed of LGC price data, which we have obtained from Green Energy Trading (thanks guys).  This has been coupled with the LGC registration data we're scraping from the Clean Energy Regulator (thanks also!) – and hence can be combined to generate trends like the following: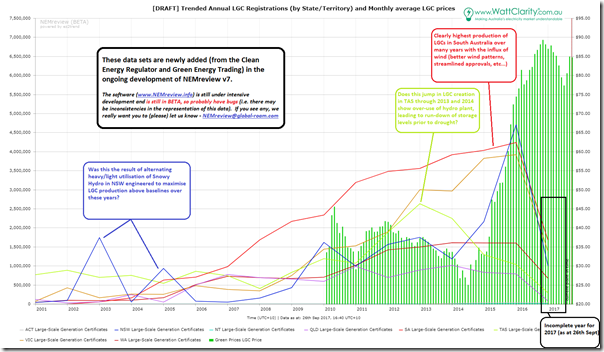 Please note the big caveat on this chart that the software still is in BETA and may (is likely to!) have bugs.  Hence there may be errors in the chart above – I am genuine that, if you can see any errors in this data, please let us know:
Call us on +61 7 3368 4064
For us, being able to see the data in this way stimulates a number of additional questions (not that we are short on them).  Some are included as annotations on the chart.
We look forward to working with our clients, readers, and other collaborators, to progressively understand more – and hence make more of the energy sector more understandable.