A quick PS to Monday's article with the following observation from NEM-watch this morning highlighting how aggregate wind production peaked up at 1,540MW last night at 23:45 NEM time.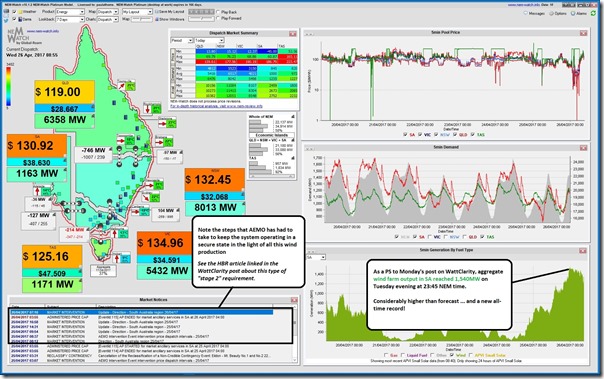 Note, for those who are confused by electricity industry terminology, that a "megawatt" is a rate of production, not a quantity (Quantity is expressed in MWh at this level).   One "watt" is the same as 1 "joule/second" – so 1MW = 1,000,000 J/s
Note also (highlighted on the image) the Market Notices issued by the AEMO to broadcast that they have had to direct market participant operations in order to keep the system in a secure state, coincident with the windy conditions.  Here's the first one, issued at 08:12 yesterday (Tue 25th April), which indicated the view that the direction would remain in place until 12:00 today: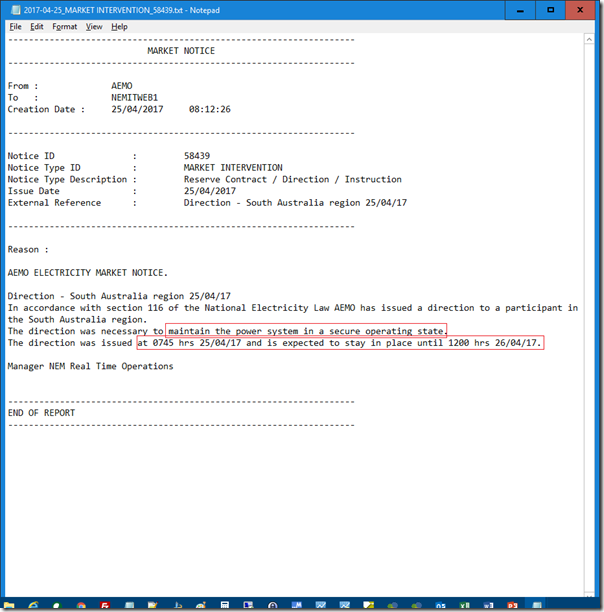 No more time to delve into the AEMO Market Interventions within the SA region currently… [it's presumed that these might have something to do with windy conditions, but not confirmed until more detail is known].