Following the dramas of the white knuckle ride yesterday in NSW (and, in reality, through the rest of the interconnected NEM as well), it's worth noting that we're not yet out of the woods – as shown in the following snapshot from NEM-Watch at 12:25 NEM time (so 13:25 Sydney daylight savings time) in Sydney: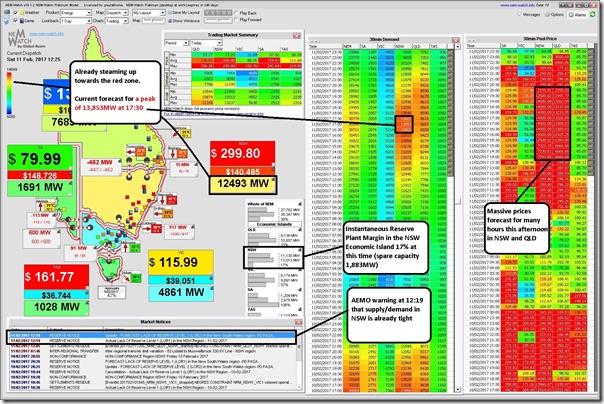 As noted in the annotations, NSW Scheduled Demand for the 12:35 dispatch interval is 12,493MW and rapidly steaming up to an forecast peak of 13,853MW in the 17:00 Trading Period (which would be less than 1,000MW off the all-time record, so itself remarkable for a stinking hot Saturday).
Also noted is the two Market Notices issued at 12:19 by the AEMO flagging that the supply/demand balance is already tight – the text of the forecast LOR2 is included below for your ease of reference: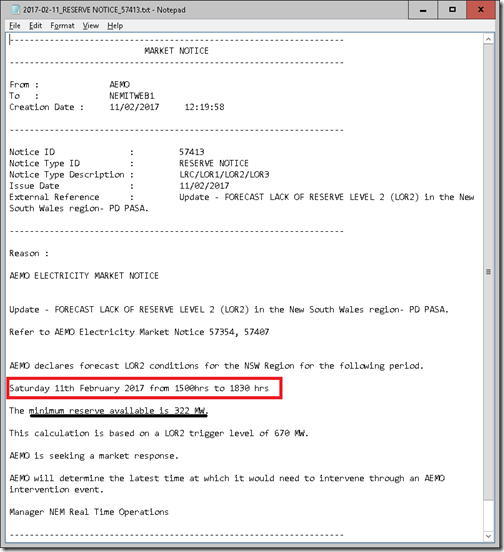 So, once again, we have a very tight situation forecast for the afternoon – as Scheduled Demand increases coincident with the accelerating afternoon decline of solar PV injections.
As shown in the NEM-Watch image for 12:35, the Instantaneous Reserve Plant Margin at that time was down to 17% (which itself is a fairly healthy level – but forecast to drop further through the afternoon).
This is calculated as surplus of the 13,013MW of local generation capacity bid available at the time supplying the 11,130MW of demand in the NSW "Economic Island".    Those with a numerical inclination will note that this number (11,130MW) is less than the NSW Scheduled Demand for the period.  This is the case because of power being supplied from VIC and QLD.
Now this is a natural part of a well-functioning, interconnected electricity grid/market – it happens each and every day, every five minutes of the day.  But do we really need our elected representatives to be investing the time to highlight this trivia (as if Mark Bailey had personally toiled to haul all those MWh over the border to NSW yesterday in a wheelbarrow)?

Every MWh (every kWh) delivered yesterday, and conserved yesterday, counted – and counted equally – just as it will today.  Why single out any particular contribution like it was "the golden child" – as Mark has done above, or as Amy did below:

With the electricity supply industry in crisis (many stark examples since July 2016) we should be expecting more from our elected representatives.
It's not about coal, and it's not about renewables either (in fact my sense is that the Emotion-o-Meter is subverting reason) – but more on that later…