As someone who works in the energy sector, and also uses social media (primarily Twitter and LinkedIn) it's fairly frequent that I hear someone talking about some particular survey that returns a very high rate of public support for renewable energy.  Today was no exception, with a survey run in NSW being quoted today.
In the past, I have wondered (on hearing such high numbers) how these sentiments have translated into action for both residential and business customers.  Hence today I accessed the most recent  of these GreenPower Quarterly Reports (Q4 December 2015, so there seems to be a fair lag) to check out the statistics provided herein: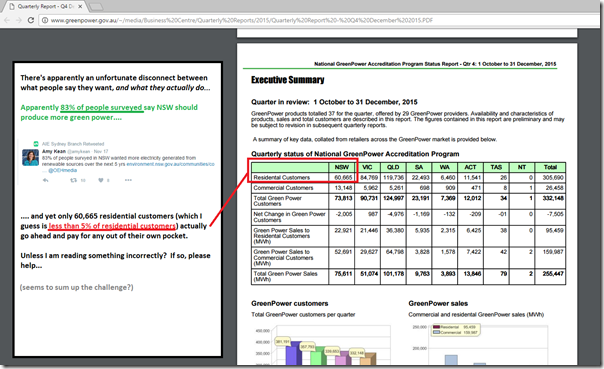 There does seem to be a big disconnect, that I don't understand – if 83% of people surveyed in NSW want more renewable energy generated, then why is it that a much lower percentage (less than 5%, with an assumption of many more than 1,000,000 residential customers in NSW) seem to actually pay for it themselves, directly?
I understand that some customers won't be aware of the availability of the GreenPower program, as a means through which they can (today) put their preferences into action.  But gut feeling suggests there would be other factors involved…
I assume that someone else has already worked this through, to explain the reason(s) for the difference.
If anyone can help me understand such a large apparent difference between words and actions, please leave a comment below (including any URL references to previous explanations) – or contact me directly?