Was a humid ride home on the bike today in Brisbane, and a visitor we have tomorrow warned us that it's not looking good for the next few days – so I took a look myself: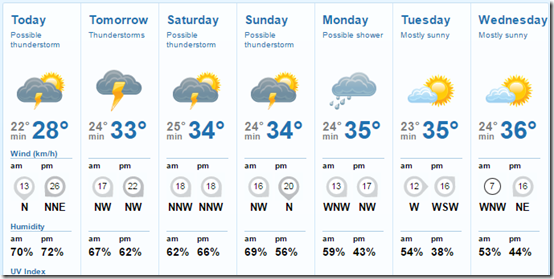 No time for ties & jackets in the office, that's for sure!
Being interstate yesterday and quizzed about Brisbane's summer I concluded that it's not been too bad, thus far – I was thinking that the demand had only reached the low 8,000MWs – and, as a result of this, prices have been relatively flat (compared to other recent summers).
Thinking it through more this evening, I realised I'd been overseas for most of December, so had missed days like the 11th December (the day of the highest demand in QLD so far) – but, even so, I had come into summer 15-16 expecting quite a bit more for Queensland.
Well, with Australia Day out of the way, that all that looks set to change soon…
Checking NEM-Watch this evening we see the Queensland demand up in the the yellow zone (something we see more often here because of the flatter load shape):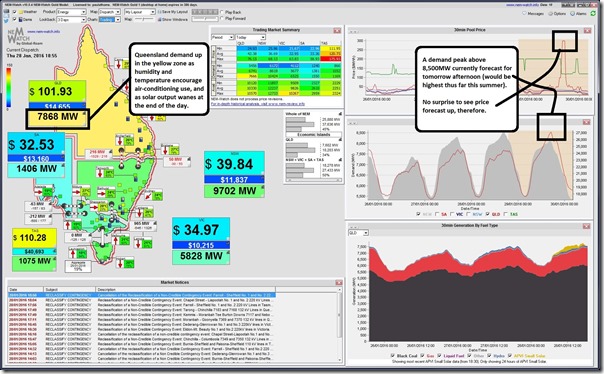 Pulling a PASA chart from a widget within ez2view we see demand forecast to blast through 9,000MW on Monday and Tuesday next week (if this forecast – the 50% POE – holds true, this would break the previous record by about 500MW).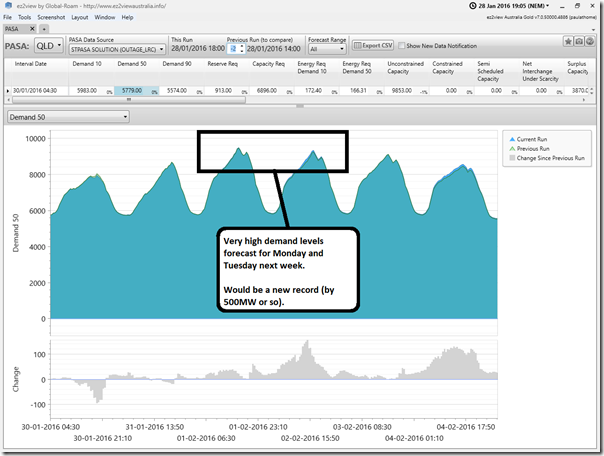 If the weather holds true to predictions, watch out for some fireworks…