What follows here is far from complete … over time (as time permits) we will continue to flesh out this page.
(A)  Internal References
You'll find a growing number of articles on WattClarity tagged with 'GenInsights21' … or (less frequently) 'Generator Insights 2021'.  These might prove useful.
Occasionally also, we might remember to tag conversations on Social Media:
(1)  With #GenInsights21 on LinkedIn; or
(2)  With #GenInsights21 on Twitter.
(B)  External References
In no particular order, here's some of the external references to GenInsights21 that we have come across in our travels:
1)  PV Magazine
On the day of its release, Bella Peacock of PV Magazine wrote the article 'Variability compounding complexity compounding risk: the state of play in the NEM today' with reference to GenInsights21.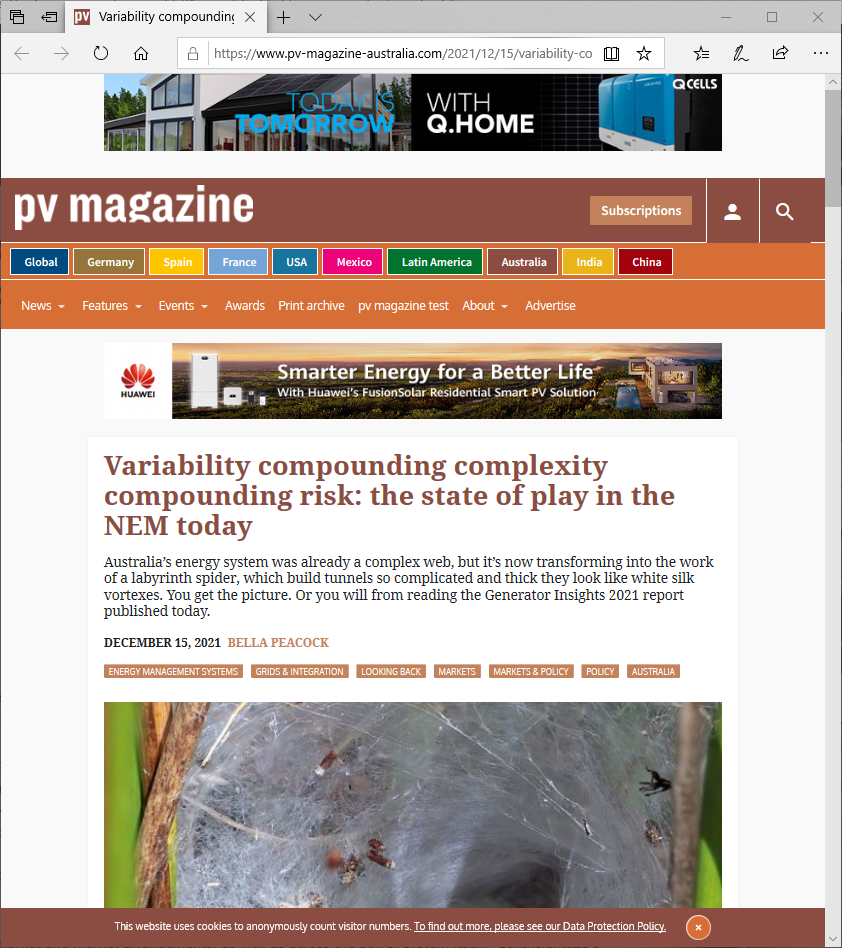 Bella's article includes the note:
'In summary: our electricity generation is becoming more variable and uncertain, which is not necessarily bad but does add layers of complexity to a system already piling them on faster than a game of Uno. Each of these layers of complexity is shadowed by an additional layer of risk. '
… and includes a number of take-aways.
—
On 11th February 2022, PV Magazine also shared Marcelle Gannon's article 'What does the future hold for wind and solar in the NEM – seen via GenInsights21?' in its Opinion & Analysis section.
2)  Energy Source & Distribution
Also picking up on the themes of complexity and risk was Energy Source and Distribution with their article 'GenInsights21 report highlights NEM complexity and risk' on 17th December 2021: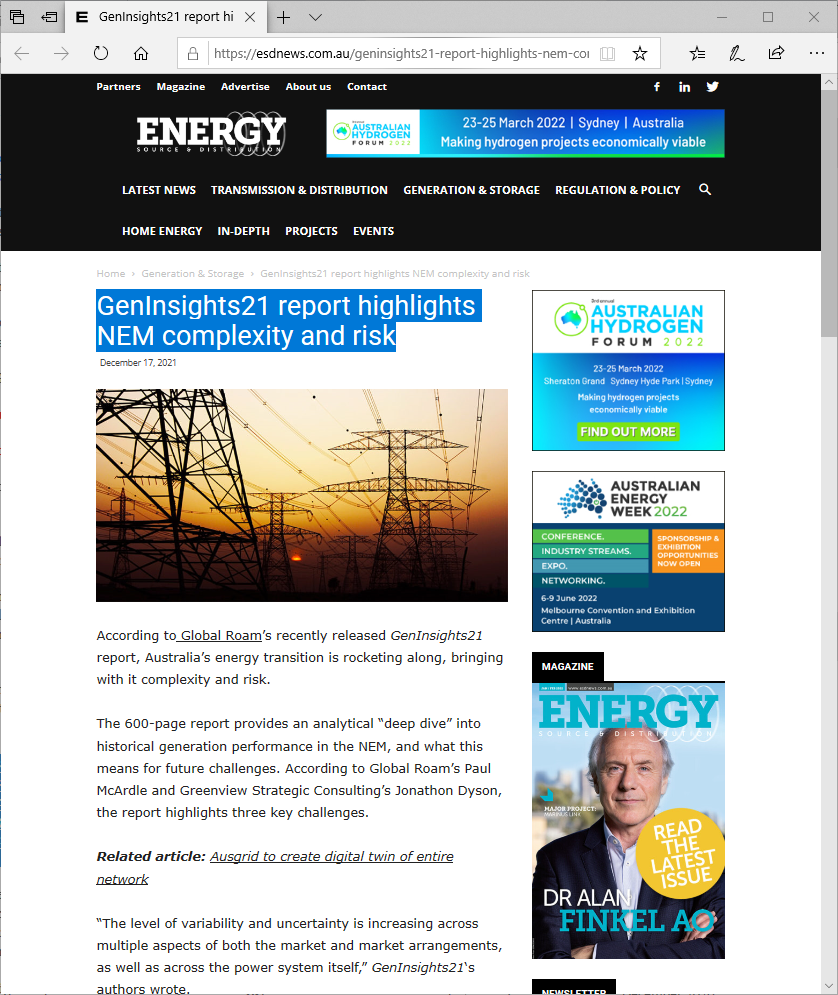 3)  David Leitch
On 23rd December 2021 ITK Principal, David Leith (occasionally a guest author on WattClarity, but more frequently writing on RenewEconomy' shared his own 'review of GenInsights21' via WattClarity.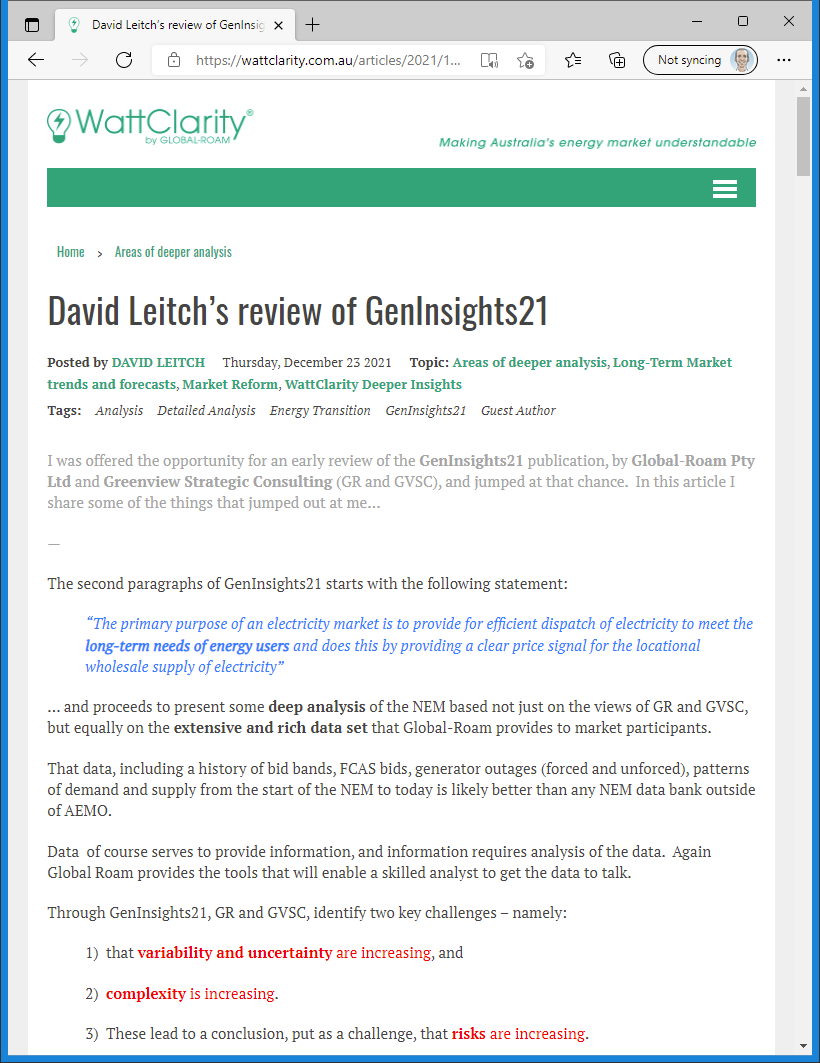 Amongst other things, David wrote:
'The price signals that are available, that is spot prices and various futures prices (baseload and caps), arguably might reassure system designers.  If market participants forecast significant high price volatility likely the price of the thinly traded $300 cap would increase.  One aim of markets related analysis, at least in the view of this analyst, is to get "ahead" of the market. Theory suggests that for fair markets, ones with liquidity where trades are only made on the basis of public information, it is difficult if not impossible to consistently get ahead.  And yet there is a reward for analysis, because it reduces uncertainty.  And so it may be with the risks identified in Gensight21.  GR and GVSC may just be ahead of the game.'
… thanks for the kind words, David!
4)  EcoGeneration
On 5th January 2022, EcoGeneration posted their article 'Net zero or 100 per cent renewables … it's time to decide' with reference to GenInsights21: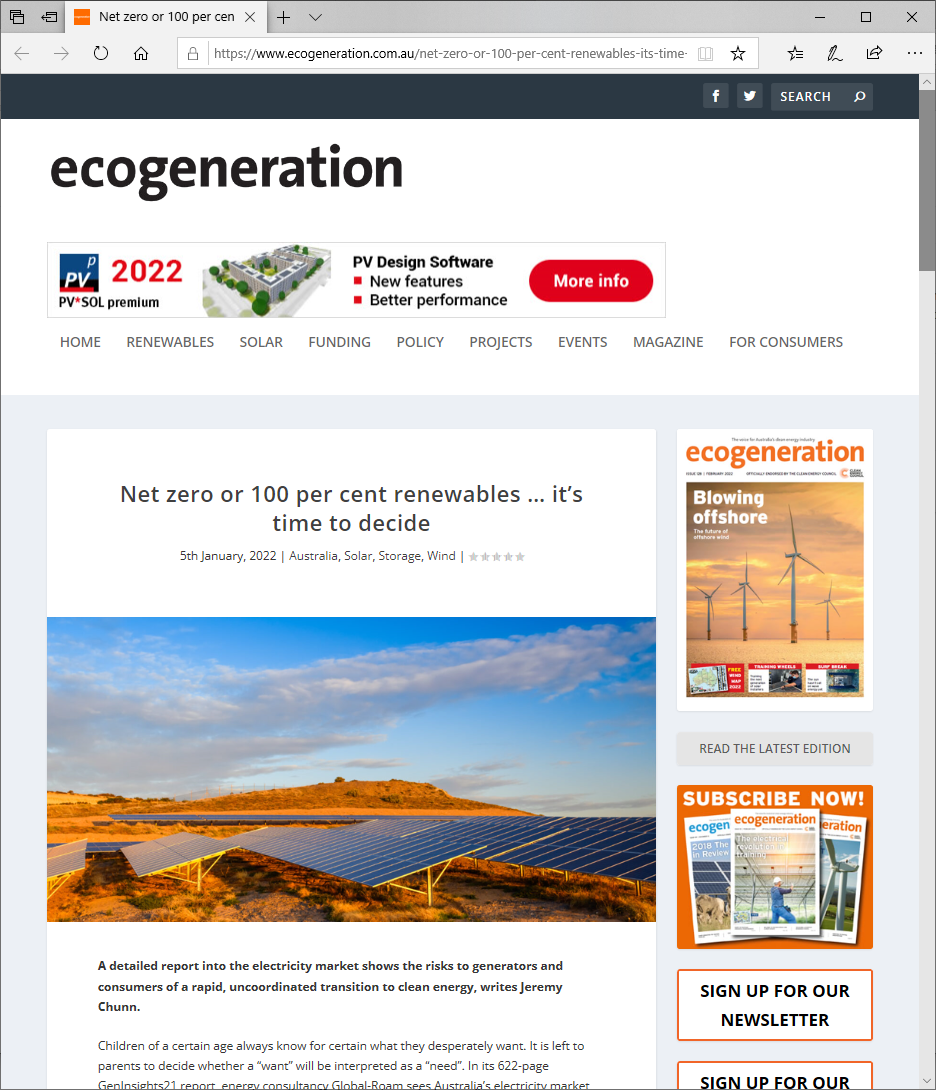 Amongst other things, EcoGeneration writes:
'Children of a certain age always know for certain what they desperately want. It is left to parents to decide whether a "want" will be interpreted as a "need". In its 622-page GenInsights21 report, energy consultancy Global-Roam sees Australia's electricity market facing the same moment of truth.
The rapid transition to clean energy is getting more complex and risky; rooftop PV is having a significant impact on revenues, especially at solar farms; as minimum demand falls, the ramp to a stubbornly high peak puts strain on supply. Rising risk and uncertainty can only lead to unexpected outcomes.
Perhaps it's time for the parent to say to the child: 100 per cent renewables at all costs is not the best solution.'
5)  Keith Orchison
On 31st January 2021 in his February newsletter on Coolibah Consulting, Keith Orchison includes several comments about GenInsights21: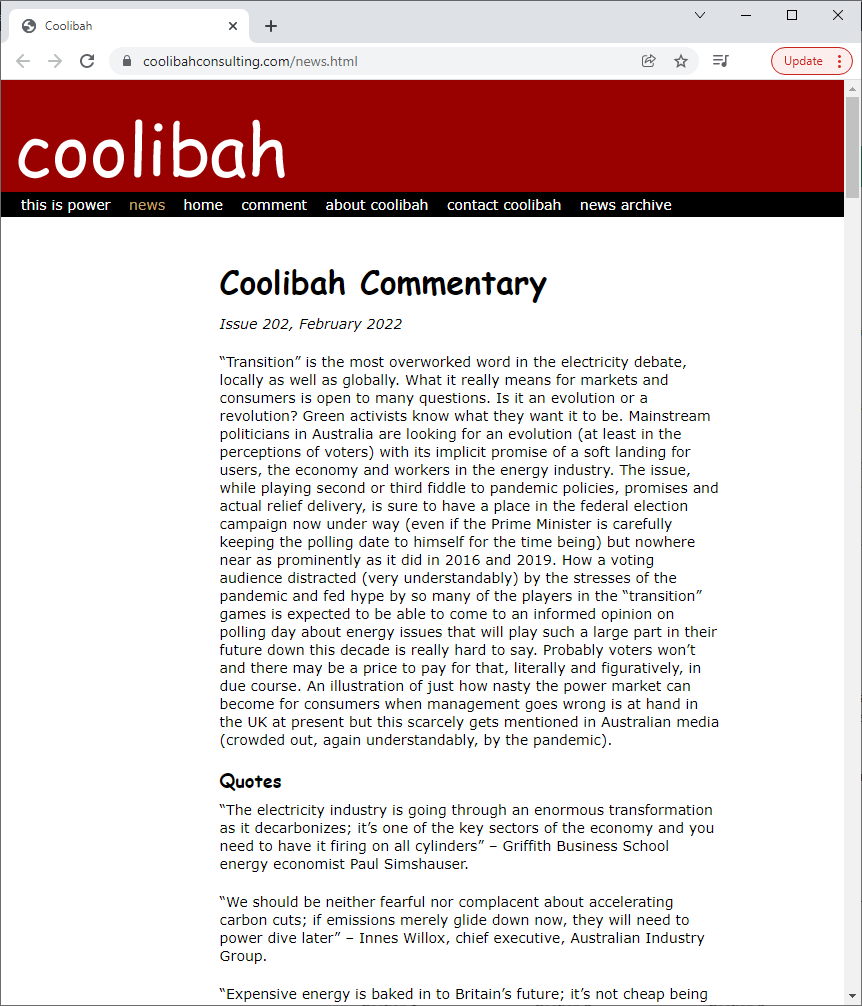 One of his comments was the following:
'It's a bit early in the year to declare a publication you have been sent to be the most interesting for 2022, but others will have to go some to outdo the "GenInsights21" research Paul McArdle mailed me in mid-January for its relevance to one of Australia's most pressing issues down this decade: maintaining electricity supply to ensure social and economic well-being while running headlong towards the "transition."'
We noted about this comment shortly afterwards…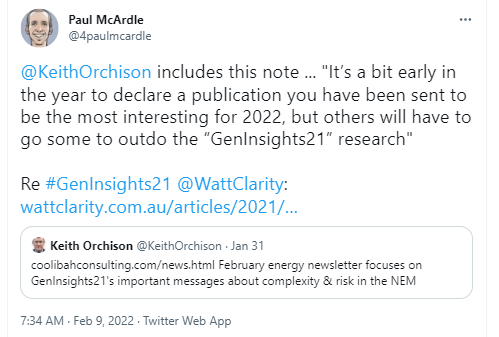 Keith also noted:
'The value of "GenInsights21" – produced by McArdle's Global-Roam business in collaboration with Greenview Strategic Consulting—is that it takes the deepest of dives (over more than 450 pages of analysis and 169 pages of commentary, the bit I have spent the past weeks reading) in order, as the authors say, not to attempt to stop the market future but to be a reference point for serious consideration of the significant challenges lying ahead, about which, I add, there is far too much insouciance in the mainstream media.'
6)  More…
More references we come across in our travels will be added in here, as time permits…
(C)  Customer References?
At some point in the near future we'll add some of these in, as well…
If you are ready to access your copy, please refer here.